Strategic positioning is the foundation for alignment with the medical marketplace
In developing and marketing healthcare, pharmaceutical and medical products and services, every decision that is made regarding product and brand marketing should be aligned with the positioning.
Strategic positioning defined
Strategic positioning can be defined as the conceptual space your brand occupies relative to key competitors.  It serves to motivate specific targets — physicians, patients, and others — to prescribe or use your product over your competitors.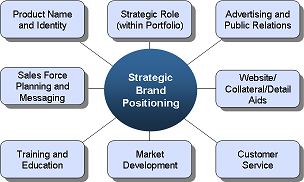 A strong positioning meets three criteria:
Relevant — it meets customer needs, across physicians, patients, hospital purchasing, and other customer groups
Different — it is distinctive vs. competitive offerings
Credible and attainable — what is promised can be delivered upon by the organization
Benefits of a strong positioning
Ensures market requirements are met — highlighting the most relevant and distinctive benefit(s) that physicians find most appealing
Provides direction to the business team on a number of fronts, including alignment of Product Development, Marketing, Sales and Clinical functions
Boosts efficiency and saves time by minimizing marketing development iterations
It's important that your healthcare marketing consultant, medical marketing consultant or pharmaceutical marketing consultant have deep expertise and appreciate the complexities of strategic positioning within lifesciences.
EquiBrand has broad and deep medical healthcare consulting experience, working across a variety of medical professionals and medical specialties.  We are expert in medical marketing research and used a disciplined approach to marketing strategy and plan development.
If you're considering hiring a pharmaceutical marketing consultant, healthcare marketing consultant or pharmaceutical marketing consultant, speak with EquiBrand about our specialized medical marketing consulting services.